Capital Improvement: One Northern Virginia Library's Support of Life-Saving Programs
Heather Groves Hannan
Head, Mercer Library
hhannan@gmu.edu

Victoria Shelton
Life Sciences Librarian
vshelton@gmu.edu

William Fleming
Social Sciences Librarian
wfleming@gmu.edu

Nicki Trosclair Meacham
Stacks Manager
ntroscla@gmu.edu

Mercer Library
George Mason University
Manassas, Virginia

George Mason University (GMU), founded in 1972, as an offshoot of the University of Virginia, has developed into a state institution with a stellar reputation for diversity and nationally acclaimed degree programs. The university consists of three campuses all located in the metro Washington D.C. area, called Northern Virginia. Most of the 29,000 students enrolled at GMU are from Virginia. However, all 50 states plus the District of Columbia, as well as 135 countries and regions, are represented in the student body. With this diversity comes the need for various research materials and a forward-thinking library mission (George Mason University, Office of University Relations 2005).
What began as Prince William Library, with a modest allotment of computers and resources in 1997, has grown into a 10,000 square foot facility and was recently renamed Mercer Library after John Mercer, uncle and guardian of George Mason. Mercer Library, located on GMU's Prince William Campus in Manassas, VA, serves as the gateway for patrons who live or work near the campus in Prince William, Fauquier, and western Fairfax Counties as well as the cities of Manassas and Manassas Park in Northern Virginia. In just eight years, the facility has expanded to accommodate periodicals, reference, media, and circulating collections, as well as study rooms, research space, staff offices, and the most recent addition of over 19,800 inches of additional shelving for reference, serials, and circulating holdings. Reference librarians add over 3,500 holdings annually to the already stellar collections in Administration of Justice, Biodefense, Computer Science, Education, Molecular and Microbiology, and Recreation, Health and Tourism.
As programs and courses, in particular those in the science and technology fields, have expanded at the Prince William Campus, Mercer Library has sought to keep stride with the growing demands of exceptional scholars in the recognized programs of study on campus. In addition, Mercer collaborates with the American Type Culture Collection (ATCC), a global bioscience organization, to maintain holdings supportive of ATCC's joint research with GMU's Institute for Molecular Bioscience and Technology. The institute structure allows for cooperative programming between ATCC's teaching and research activities and the university's molecular bioscience program.
The National Center for Biodefense and Infectious Diseases (NCB) has garnered George Mason University, and the Prince William Campus in particular, national interest through its applied research center that conducts innovative biomedical research to develop techniques for the prophylaxis and treatment of infectious diseases and biological threat agents. NCB was founded jointly by Ken Alibek and Charles Bailey. Alibek, a former First Deputy Chief of the civilian branch of the Soviet Union's offensive biological weapons program, serves as a Distinguished Professor of Medical Microbiology and Immunology. Bailey, a former commander of U.S. Army Medical Research Institute of Infectious Diseases, is a Distinguished Professor of Biology.
In the Fall of 2003, NCB offered two new graduate programs, the first of their kind in the world: the Ph.D. Program in Biodefense, and two Graduate Certificates: 1) Microbial Biodefense, and 2) Biological Threat and Defense. Since that time, the number of NCB graduate students has increased from 75 to 218, and faculty members from 12 to 19. In addition, approximately 48 new students have been accepted for Spring 2006.
Keeping pace with course studies, Mercer Library has acquired approximately 250 monographs in the area of biodefense since 2003. The number of new journal subscriptions for the biodefense programs increased from nine titles in 2004 to fourteen titles in 2005. Mercer Library houses the only peer-reviewed journal devoted solely to biodefense: Biosecurity and Bioterrorism: Biodefense Strategy, Practice, and Science, founded by the Johns Hopkins Center for Civilian Biodefense Strategies and now published by the Center for Biosecurity at the University of Pittsburgh Medical Center. Mercer Library is George Mason University's premier site for library resources in biodefense and has already made significant efforts to support the teaching and research missions of the NCB.
Bioinformatics is a discipline that develops and applies computational tools to the organization and study of biological data. The Bioinformatics program, within the School of Computational Sciences, and based on the Prince William Campus, is the first of its kind in Virginia. It has won national acclaim and was recognized for making critical contributions to disease detection and drug design.
In the past few years, the number of Bioinformatics graduate students has increased from 154 in 2001 to 216 in 2005. Many of the students enrolled in these programs, as well as the professors, have become frequent visitors to Mercer Library. Thus, the bioinformatics monograph collection is one of the most highly used collections within Mercer Library. The circulation statistics verify bioinformatics books were checked out in 2004 an average of nine times. Since 2001, the library has almost doubled the size of the bioinformatics collection, which include the core titles published by Elsevier, Marcel Dekker, Humana Press, and Kluwer; current publications; reference resources; the journal Bioinformatics; Journal of Bioinformatics and Computational Biology; Briefings in Bioinformatics; and Applied Bioinformatics. These resources help support two new Ph.D. programs in Bioinformatics and Computational Sciences and Informatics, offered at the Prince William Campus.
In addition to the National Center for Biodefense and Infectious Diseases, and the School of Computational Sciences, the Prince William Campus houses another notable scientific department. The Department of Molecular and Microbiology (MMB) was established in 2003 within the College of Arts and Sciences (CAS). Dr. Vikas Chandhoke, renowned expert in the areas of biochemistry, bioinstrumentation, and biology of ultrastructures, currently serves as both the Associate Dean of Research for the College of Arts and Sciences, and the interim chair for the Department of Molecular and Microbial Biology.
MMB focuses on molecular, cellular and microbiology with an emphasis on applied research through the many centers within the CAS Life Sciences Division. Some of the noteworthy subject areas collected by Mercer Library that are pertinent to the research done at MMB include molecular genetics in Drosophila, gene expression in DNA microarrays, and functional genomics of cancer cells.
Research centers directly supported by Mercer Library include the Center for Applied Proteomics and Molecular Medicine (CAPMM), the Center for Biomedical Genomics (CBG), the Center for the Study of Genomics in Liver Disease, ATCC, and the Krasnow Institute for Advanced Studies.
CAPMM is within the Life Sciences division of the College of Arts and Sciences, and is directed by two internationally renowned scientists, Dr. Lance Liotta and Dr. Emanuel Petricoin III. These scholars were appointed to the George Mason faculty in 2005 to pursue research to create advanced diagnostic and treatment approaches for cancer and other diseases. The research focuses on the discovery and identification of biomarkers for early disease detection and risk assessment. Doctors Liotta and Petricoin III are co-directors of the National Cancer Institute /Food and Drug Administration Clinical Proteomics Program.
CBG is an applied research center in the College of Arts and Sciences. CBG operates research laboratories complete with genomic microarrayers, gene sequencers, and bioinformatics systems. Also in the microarray research field are scholars at the Center for the Study of Genomics in Liver Disease, which also has a collaborative relationship with INOVA Health Systems' center for Liver Diseases.
The Krasnow Institute makes significant contributions to the study of brain and human mind that can be applied for human benefit in the areas of mental health and neurological diseases. The Institute also conducts the computer-driven study of artificial intelligence and complex adaptive systems. In Spring 2004, the Krasnow Institute, in collaboration with the School of Computational Sciences, began to offer a new doctoral program, a Ph.D. in Neuroscience. The degree focuses on the areas of behavior, anatomy, physiology, biochemistry, computational modeling, and informatics. Though the Krasnow Institute is based on the Fairfax campus, its researchers work closely with the Bioinformatics intellectuals on the Prince William Campus.
With these many changes in programs, and growth of scientific offerings, George Mason University Libraries has sought to support the complex research involved in new departments and research centers. The previous layout of Mercer Library was being stressed by the requirements of the additional science and tech programming. Over the years, Mercer Library was found to have reached two of the four noted conditions under which library space restructuring needs to be programmed: 1) lack of collection growth space; 2) lack of space for people (Fraley and Anderson 1990).
Fraley and Anderson's first point, lack of collection growth space, and routine collection development, along with George Mason University's increased enrollment and expansion of Prince William Campus programs, has necessitated a review of library space management. Until recently, Mercer Library was one of only two sites in the GMU Libraries system with leisure holdings. While these popular novels and biographies are not typically found in an academic setting, the number of non-GMU affiliated patrons called for the inclusion of these titles. With extra stacks installed, these titles transferred from a "weeded" list to a reclassification in the system and now join the more scholarly volumes with room to spare. The addition of new stacks during the 2005 summer months was made possible by the relocation of staff offices and the loss of a staff workroom and a group media viewing room. Due to the low demand for group media, equipment was transferred to portable carts to be used as needed in existing study spaces. Computers were also relocated from the remaining two study rooms to the library floor, joining 31 reference and computer lab supported PCs located in individual study carrels. This shifted the focus of the study rooms from individual study space to a place promoting group use while still offering accessible ports for laptops.
Fraley and Anderson's second point, lack of space for people, is currently being tackled as Mercer Library begins the preliminary stages of cannibalizing its Annex. This storage space holds pre-1990 serials, which can be requested by patrons but are kept off the library floor. Plans for the Annex involve transforming it into a third group study room. With the growth of electronic resources it seems likely that Mercer will be able to accommodate patrons who need study space without sacrificing the availability of scholarly resources. Dated materials will eventually move either to the Washington Research Library Consortium (WRLC) storage facility or to other existing GMU library sites.
Cultivation of collections and resources are as necessary as the development of those other special patron needs, specifically those of comfort. Students are enjoying the addition of new lounge chairs and small study tables, as well as access to a TV/DVD combo, TV/VCR combos, and 18 individual study carrels with Internet-ready ports. These all combine to provide patrons with a designated "quiet study" space, comfortable seating by newspapers and popular journals, both "computer lab" and reference terminals for study and word processing, and individual and group study areas.
Electronic access to full-text databases and other e-resources remains high in the priorities of George Mason University Libraries. While the replacement of print materials with electronic resources has been a key factor in space management techniques throughout academic libraries, new wireless access within Mercer Library has allowed for the marriage of digital and physical materials. Accommodation of physical holdings remains an "important part of space allocations" (Ross 2005). A balance of storage, access, and service requirements with quality comfort room for patrons has resulted in library trends to provide both research materials and social space that aid in "creating a strong sense of community" (Schatz 2005).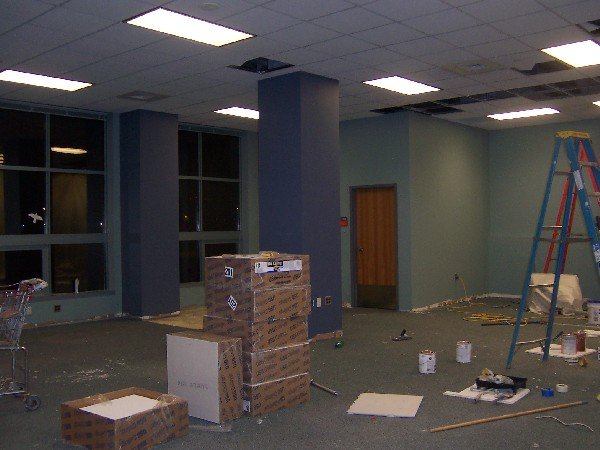 Over the course of a few short years, Mercer Library has undergone massive renovations in order to serve patrons of the University Libraries to the fullest capacity, especially those whose interests lie in the bioscience and technology fields. A large part of Mercer Library's success is due to flexibility, a key measure for any library site of a growing institution. With a beautiful new look, double the amount of stacks from 2003, massive collection growth in the biodefense, bioinformatics, and biomedical monograph and serials holdings, additional group and individual study space, and additional student workers to assist in maintaining the quality of all resources, have all been keenly welcomed by the Prince William Campus community, which grows with each semester. The biomedical research conducted on the Prince William Campus of George Mason University is critically dependent on current information resources provided by Mercer Library, whose facilities and collections contribute greatly to the scientific and educational missions of the university.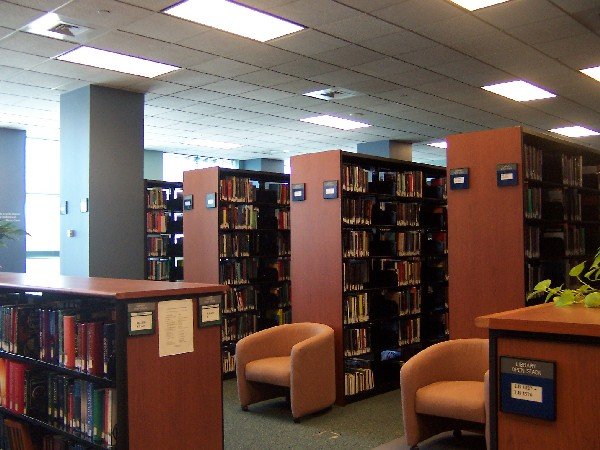 References
Fraley, Ruth A. and Carol Lee Anderson.
1990.
Library space planning : a how-to-do-it manual for assessing, allocating and reorganizing collections, resources, and facilities.
New York: Neal-Schuman Publishers.
George Mason University, Office of University Relations. 2005. George Mason University Catalog. Fairfax, VA : George Mason University.
Ross, David. 2005. Trend spotting. Library Journal 130(15): 36.
Schatz, Mark. 2005. Trend spotting. Library Journal 130(15): 41.