Electronic Resources Reviews
Using EndNote Web with Science Databases
Laura Hebert
MAS/MLIS Candidate
School of Library, Archival and Information Studies
lauraannehebert@gmail.com
Eugene Barsky
Science and Engineering Librarian
eugene.barsky@ubc.ca
University of British Columbia
Vancouver, British Columbia

Copyright 2013, Laura Hebert and Eugene Barsky. Used with permission.
---
Introduction
EndNote Web is a citation management tool created by Thomson Reuters. Since its creation it has undergone a number of updates. EndNote Web's intention is to enable users to work remotely and to facilitate sharing and collaboration through its online features. This tool is a scaled-down version of the EndNote desktop software. While EndNote Web can function independently, many of its features are designed to work in tandem with the desktop software (Thomson Reuters… [updated 2013]).
This review will provide an assessment of the features and functions of EndNote Web, as well as a demonstration of how EndNote Web can be used with science and technology databases.
Functions
A detailed description of the services and functions of EndNote Web -- http://www.myendnoteweb.com is available in Shimp's 2007 review of the product (Shimp 2007). Primary changes of EndNote Web have occurred in terms of the interface design and the availability of the product.
As a bibliographic management tool, EndNote Web seeks to provide users with a method of organizing their research with the benefit of online access and sharing options. EndNote Web's interface is governed by a horizontal navigation bar located at the top of the screen. Four different tabs permit the user to operate the tool.


EndNote Web navigation bar options
First, My References, serving as a home screen, enables the user to survey and navigate through their collected resources. From this view, resources can be examined by a comprehensive list or by groups. The user can edit references and affix notes to references at the individual level. The Collect tab provides tools for engaging in the process of acquiring resources. Using online search through PubMed or the catalogue of the affiliated institution, references can be added to the user's library. References can also be imported from databases and saved files, directly exported from Web of Knowledge platforms or added manually at an individual level. Next, the Organize tab facilitates the actions of making groups, sharing resources and remedying the presence of duplicates. Groups are a collection of resources created by the user and enable the sharing of selections of content with other users in a read-only or read and write format. The Format tab enables users to create bibliographies, accessible in HTML, TXT or RTF.
The EndNote Web account provides access to the downloadable plug-in, Cite While You Write. This plug-in is compatible with Microsoft Word and enables users to input citations from their account during the writing process. Internet connection is required, but there is an option to include temporary citations according to a specified format that will update upon re-establishing an Internet connection. The word processor integration in both Zotero and Mendeley work in Microsoft Word and in Open Office, permitting the user more choice in their selection of products (Zotero [updated 2012]; Mendeley [updated 2012]).
An EndNote Web account can be synced with a user's desktop version of EndNote. This will allow the exchange of resources to and from EndNote Web, and also the option to manage duplicates during the process and maintain established groups and the library's organization. This feature permits users to access EndNote Web from any Internet-connect computer and send resources to their personal computer, thus taking advantage of the mobility of EndNote Web and the high capacity of EndNote's desktop software.
Versions
In fall 2012 Thomson Reuters released another version of this online tool referred to as EndNote Web Basic. This free service is accessed through myendnoteweb.com (Thomson Reuters… [updated 2013]) and delivers functions similar to the EndNote Web with Advanced Features version, but with the restrictions illustrated in the following table:
| | EndNote desktop | EndNote Web with Advanced Features | EndNote Web Basic |
| --- | --- | --- | --- |
| Version | X6 | 3.6 | Released Fall 2012 |
| Exporting from online database providers | 700+ | 700+ | 3 |
| Number of citation styles | 5,000+ and custom creation options | 3,400+ and custom creation options | 20 citation styles |
| Storage, attached files Web desktop) | Unlimited | 5 GB (available only when synced with EndNote desktop) | 2 GB |
| Storage, online references (available only when synced with EndNote Web desktop) | Unlimited | 50K | 50K |
(
Thomson Reuters… [updated 2013]
)
Most significant among the restrictions is the limitation on the number of citation styles available to the user. The standard version offers over 700 standardized styles including many commonly used formats, while the free basic version offers only one style: Author, Date. This makes the tool suitable for a much smaller pool of potential users.
Initially, EndNote Web with advanced features must be set up through an authenticated library's access to the Biosis, Zoological records, Journal Citation Reports or Web of Science (all part of Thomson Reuters) on the Web of Knowledge platform. Once an account has been set, this version of EndNote Web can be accessed through the EndNote web site or again through the authenticated interface used during the set-up. The free version of EndNote Web Basic can be accessed through the EndNote web site.
Additionally, the latest version of EndNote Web also features a responsive web design option for use on mobile devices. The design of the mobile interface is scaled to present information more clearly on smaller screens and provide larger links for touchscreen use. The EndNote Web mobile site automatically loads on a mobile device when the user navigates to www.myendnoteweb.com. The mobile site does not have complete functionality, but does allow users to view and search their saved resources.
Evaluation
One of the strongest features of EndNote Web is its remote accessibility. Users can access their account, and thus their organized research, from any computer with Internet access. It is also simple to share with colleagues, though they must also have an EndNote Web account and the shared resources can only be accessed through the service.In comparison to other citation management tools, EndNote Web has one significant drawback. EndNote Web does not have the ability to import metadata from PDF files. In the event that users wish to import from a PDF file, they will be required to manually enter the descriptive information for each resource. EndNote desktop, Mendeley and Zotero all permit the importing of metadata associated with PDF files. Previous versions of EndNote Web imposed a maximum of 10,000 records for one account. The recent increase in capacity to 50,000 records enables users to store and organize large bodies of research. A limit on resources may not be a problem for undergraduate students, but raises issues for researchers involved in large-scale literature reviews or studies, especially systematic reviews in the health sciences. The increase in capacity opens up use of EndNote Web for a variety of potential users.
EndNote Web is fairly intuitive in its user interface, enabling users to begin their research promptly and without a significant delay due to the presence of a steep learning curve.
Compatibility and Use
EndNote Web has the capability to import references from a number of science and technology databases, including the following:
Web of Science
Compendex (Engineering Village interface)
SciFinder Scholar (only web-based)
IEEE Xplore
ProQuest databases (including Metadex, GeoRef and PsycINFO)
Medline / PubMed (native interface for PubMed and OVID)
Each database has its own method for beginning the process, usually requiring the user to create and save a folder of references within their login access to the database. In the case of Compendex, when viewing a folder of collected resources, the user is presented with a 'download' option (figure 2). The user must then select the EndNote option which will create the correct file type for importing into EndNote or EndNote Web (figure 3).

Compendex download option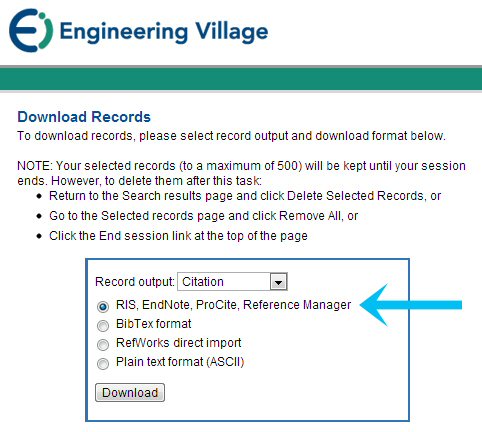 Compendex EndNote selection
The folder is then exported and saved as a specified file type, RIS in the case of Compendex. From within EndNote Web, the user must navigate to the Collect tab and select Import References. The file can then be imported by selecting the file type that corresponds with the database from which the resources were collected (figure 4). The user can choose an existing folder location for the resources or create a new one.

EndNote Web import option
Summary
In its intention to provide users with an accessible tool for citation management, EndNote Web is successful. The ability to access accounts and resources from within a web browser or mobile device makes this tool useful in its own right. With the new release free version, this tool can be used by anyone looking to explore the capabilities of a citation management tool without the commitment of a subscription or purchase. While this is a benefit and provides users with the opportunity to use EndNote in some capacity, EndNote Web is not the sole option for a browser-based tool. The current market is saturated with free in-browser and app style tools that provide the same, if not more, features and services of EndNote Web.
Where EndNote Web falls short is in its long-term use and in its appropriateness for use in extensive research. As a result, and due to its sole compatibility with Microsoft Word, potential users may feel restricted by its limitations and find the options of another tool more suitable.
Note: EndNote very recently saw a number of updates, including a name change. The web from EndNote Web has been dropped and the product is now referred to simply as EndNote, with either the desktop or online version. Both the purchasable and free online versions remain available, as outlined in this article.
References
Mendeley. [Internet]. [Updated 2013]. Reference Manager. Available from: http://www.mendeley.com/features/reference-manager/
Shimp, A. 2007. EndNote Web. The Charleston Advisor 9(2), 15-18.
Thomson Reuters. [Internet]. [Updated 2013]. EndNote Web 3.5. Available from: http://myendnoteweb.com
Thomson Reuters. [Internet]. [Updated 2013]. EndNote Web, Science. Available from: http://thomsonreuters.com/products_services/science/science_products/a-z/endnote_web/
Thomson Reuters. [Internet]. [Updated 2013]. EndNote. Available from: http://myendnote.com
Zotero. [Internet]. [Updated May 24, 2012]. quick_start_guide. Available from: http://www.zotero.org/support/quick_start_guide