Tips from the Experts
Broad Collaboration to Improve Biological Sciences Students' Writing and Research Skills
Lisa Brancato
Advisement Coordinator
Department of Biological Sciences
lisa.brancato@oswego.edu
Tina Chan
Biological Sciences Librarian
Penfield Library
tina.chan@oswego.edu
Anthony Contento
Visiting Assistant Professor
Department of Biological Sciences
anthony.contento@oswego.edu
State University of New York at Oswego
Oswego, New York
Abstract
At the State University of New York at Oswego (SUNY Oswego), a faculty member and advisement coordinator, both of the biological sciences department, and the biological sciences librarian have worked together since 2013 to present a workshop called Writing for the Biological Sciences. Offered once per semester, the workshop is sponsored by the Writing Center at SUNY Oswego. The workshop teaches the fundamentals of writing laboratory reports. Primarily geared towards first year biological sciences students, the workshop is open to all students, faculty, and staff. In addition to offering the workshops, one-on-one writing labs were offered starting in spring 2015. The writing labs allow students to meet individually with a biological sciences faculty member to review a draft of the lab report and to gain constructive feedback, as well as for the biological sciences librarian to help students with their research. The writing labs provide personal attention for biological sciences students, faculty, and the librarian to work together to help improve students' writing and research skills. Advice on offering a writing workshop and writing lab is also discussed.
Introduction
As part of the College of Liberal Arts and Sciences at the State University of New York at Oswego (SUNY Oswego), the Department of Biological Sciences serves approximately 500 biology and zoology majors, and over 50 biology and zoology minors. The department offers a writing intensive program that strives to develop and draw on students' scientific literacy and writing skills. A dedicated biological sciences librarian from the college's Penfield Library serves an integral purpose in providing a critical resource for both students and department faculty. The biological sciences librarian serves the biological sciences students and faculty with research assistance, information literacy sessions, and selects resources to enhance the collection.
As part of the college's Office of Learning Services' Writing Center's workshop series, the Write Ways Series (coordinated by the writing specialist) offers one-hour writing-related workshops. Open to all students, faculty, and staff, writing workshop topics include structuring long papers, personal statement writing, and comma usage. The biological sciences workshop was initially offered in spring 2012 by the Biological Sciences Advisement Coordinator. As the objective for the workshop became clearer, the presentation was then enhanced by representation from Penfield Library in spring 2013, when a coherent team was formed between the biological sciences librarian, Tina Chan, the Biological Sciences advisement coordinator, Lisa Brancato, and molecular biologist teaching faculty member, Dr. Anthony Contento. The result has been a comprehensive delivery of an overview of scientific writing and research for the science student rookie.
Writing Workshop Learning Objectives
As the presenters' objective is for students to understand and be proficient in scientific literacy and writing and research skills, the writing workshop offers an opportunity to enhance these critical thinking skills. The writing workshops teach students the various sections of writing a laboratory report, as well as the different types of plagiarism, citing sources using APA style for in-text references and in the reference list, and general writing tips. Rules for Writers SUNY Oswego edition (Hacker 2009) and the University of Central Arkansas' Writing a Biology Lab Report (2012) are two sources the presenters reference for writing tips. Additionally, students are taught to search for and access sources relevant to their topic using the library databases and catalogs. During the workshop, students are given a brief hands-on activity to work with a partner. They receive a scientific article with the various sections of the article and article headings cut into separate pieces. Students then organize the headings with the appropriate section so they can organize the article back into one cohesive article. This activity exercises the students' abilities to identify the characteristics of each section of a laboratory report. After a few minutes for students to work with their partner, the presenters and students discuss the process of piecing together the article. By providing a hands-on activity for students during the workshop, they are able to test their understanding of the content. The writing workshop helps students be confident with researching, accessing, analyzing, and synthesizing the information to write a laboratory report.
About 10-15 students attend each workshop. The intended audience are students enrolled in BIO 120: Molecular/Cellular Foundations, an introductory course that requires students to write two laboratory reports during the semester. Although any Biological Science student can benefit from attending the workshop, the workshop is focused on introducing students to the fundamentals of writing a laboratory report. Faculty members who teach the courses in the lecture and laboratory sections of BIO 120 are sent an announcement about the upcoming workshop. They are encouraged to inform their students in BIO 120 to attend the workshops. A program-wide e-mail is also sent out to inform Biological Science students in other classes about the workshops. The information in the workshop can also be applied to other Biology writing assignments.
How the Collaboration Continued to Grow
To supplement the writing workshops, writing labs have been offered since spring 2015. Writing labs are held once per semester and last two hours during the midday. They provide individual writing assistance for students enrolled in any biology or zoology course. The biological sciences librarian attends the writing labs to provide research assistance. Students do not need to visit the writing lab with a completed draft paper. Biological sciences faculty members read students' draft papers to provide constructive feedback and to work with them to improve their writing. Faculty members and students are encouraged to attend when they are notified of the writing labs. Although there is no minimum time requirement for faculty members to attend, they choose to sign up for one or two hours. About four to five faculty members sign up to assist students. Additionally, the biological sciences librarian notifies reference librarians of the writing lab in case they receive writing questions from biological sciences students. The reference librarians then refer students to the writing lab. Students can make an appointment by completing a form using Google Forms to select their preferred time to meet, or they can visit without an appointment. About three to five students attend the writing labs, with most dropping in without an appointment.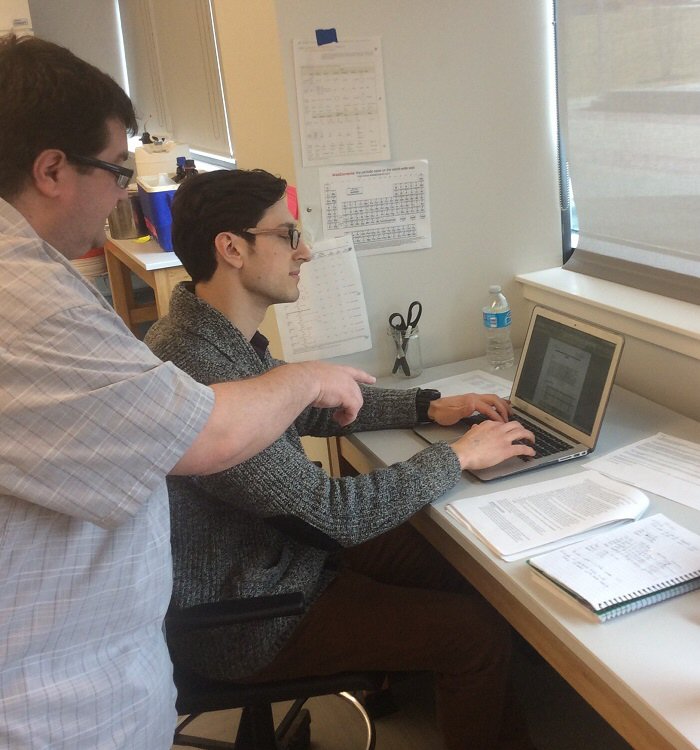 Figure 1. Dr. Anthony Contento (left) works with a student.
Considerations
As most students have been walk-ins, the writing labs will continue to be offered by walk-in or appointment. This gives students the flexibility to choose the option most convenient for them, especially if they have a busy schedule. However, students with an appointment get priority over a walk-in. Undergraduate Teaching Assistants may also be tapped to offer writing labs, either during their office hours or during walk-in sessions. If the writing labs attract more students in the future, the presenters may choose an appointment-only option or designate specific hours as walk-ins and appointments.
At the writing workshop, students are given an evaluation form, which they are asked to complete anonymously at the end of the workshop. Although the feedback has been positive, the presenters continuously look for ways to improve the writing workshops. Although the presenters feel the hands-on activity has been successful because the students understand the various sections and article headings of a scientific article, they are exploring the possibility of other activities. One possibility may be to include a game. As some students misuse and misspell words, the activity may be a game that teaches students how to correctly use and spell words that are commonly incorrect in scientific writing.
Timing in the semester for the writing workshops and writing labs is crucial. It is important to hold them about a week before the BIO 120 laboratory reports are due, which allows students time to start or revise their report. Report deadlines for additional biology and zoology courses are considered. More students have attended the writing workshops and writing labs when an assignment deadline is near. The presenters will continue to offer writing workshops and writing labs to coincide with upcoming assignment deadlines.
If interested in starting a writing workshop and/or writing lab, consider asking a faculty member to work together to offer these services. Also consider asking a department advisement coordinator, if there is one. Both of these people can provide insight into the scientific writing process and course assignments. Many academic institutions have a writing center or tutoring center, some with staff who focus on the sciences. They would be appropriate people to collaborate with as they may have science writing materials to incorporate into the writing workshop. Additionally, promoting the writing workshop and writing labs are essential to being successful. Announce by e-mail the writing workshops and writing labs to students and faculty members so they are aware of them. Listing the description and benefits of attending may encourage them to attend. The day and time of the writing workshops and writing labs should also be considered. Offering them when most of the classes are not scheduled will be more convenient for people to attend, as well as offering them about a week prior to an upcoming assignment deadline.
Conclusion
The writing workshops and writing labs provide biological sciences students, faculty, and the librarian, the opportunity to work together to help improve students' scientific literacy and research and writing skills. The partnership between the Department of Biological Sciences and Penfield Library has found a successful collaboration that provides an additional resource for students to support their continued development as scientific readers and writers. A secondary benefit of these workshops and writing labs is the effect of encouraging students to be proactive in seeking support and guidance in the writing process, and promoting communication with instructors about expectations, and seeking and using feedback. Students may potentially gain an increased sense of self-advocacy and personal development in pursuit of academic prowess. The presenters will continue to strive to help students be successful with these, and other critical thinking skills.
References
Hacker, D. 2009. Rules for Writers (6th ed.). Boston (MA): Bedford/St. Martin's.
University of Central Arkansas. Writing a biology lab report. [Internet]. [Updated 2012 Jun]. Conway (AR): Writing Center. Available from: http://uca.edu/writingcenter/files/2012/06/TS-Bio-Lab-Report-3.pdf

This work is licensed under a Creative Commons Attribution 4.0 International License.