Tips from the Experts
A Blue Sky Exercise: Using a Visioning Event to Chart a Library's Future
James Agenbroad
Technical Information Specialist
Technical Library, U.S. Army Research Lab
Adelphi, Maryland
james.e.agenbroad.civ@mail.mil
Abstract
The Information Resource Center (IRC) of the U.S. Army Research laboratory (ARL) held a visioning exercise to investigate what services the library should be offering in the future and how we should provide them. This article talks about how that meeting was conducted, some of the highpoints of the discussions, what lessons can be drawn, and how we now intend to move forward with some of the ideas presented.
Introduction
What does the special library of the future look like?
Which services should technical libraries deliver to users?
What are the trends in technical publishing?
It is important to step away from the day-to-day operations in your organization every so often to assess the direction in which your organization is heading and where you should be going. The future will arrive, and you might discover that your library is far from where you had intended it to go.
To chart a better course for our future, the Information Resource Center (IRC) of the U.S. Army Research Laboratory (ARL) hosted an event to envision the possibilities for our future. The newly formed IRC integrates the technical libraries and technical publishing functions, so we wanted to discuss issues that touched on both areas. Attendees included library end-users as well as librarians from federal, university, and public libraries.
This full-day event, "Envision Our Future," provided a forum to discuss the current state in library and publishing services, the future technologies and possibilities, and how they intersect with the needs and desires of library users. The exercise was guided by the vision of our Command's Director, Mr. Dale Ormond. As the Director of our parent organization, U.S. Army Research, Development and Engineering Command, he describes the organization in this way: "We exist in the space between the state of the art and the art of the possible" (Desmond 2002).
ARL, as the Army's corporate laboratory, focuses on transitioning basic research and applied technologies as rapidly as possible to the field. The IRC is a branch consisting of the technical libraries and the technical publishing offices at multiple locations. ARL research covers a wide range of disciplines, and the IRC provides information services to all ARL scientists and researchers worldwide. This type of dynamic environment requires that staff continually perform environmental scans, test new technologies, and prepare for the future.
Method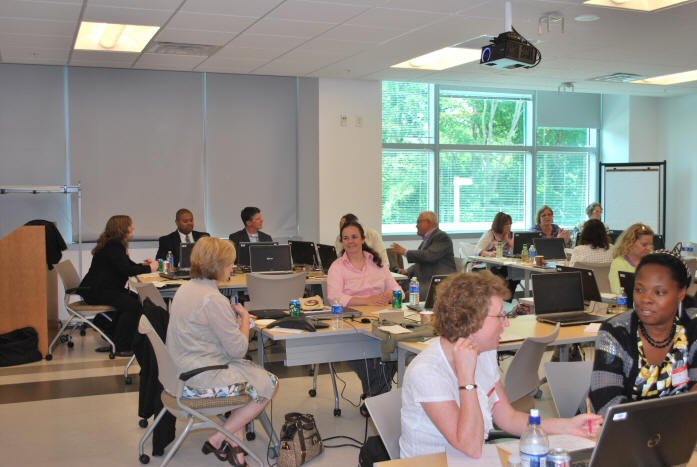 The event was organized as a series of guided discussions led by experts in each area of service. After an introductory presentation describing each topic, they would moderate the discussion, making notes on the whiteboard. When discussing a topic in a group of 35 people it is difficult to stay on topic and on time; however, that affords all attendees a chance to contribute to the conversation around all of the topics. We had somebody give each moderator a five minute warning before their discussion ended so that they would have time to wrap up before the next topic was scheduled.
Moderating open ended discussions on such a wide variety of topics with a large number of participants can be difficult. So to spread that work out, and to enable us to choose moderators who were well versed in the topics, we chose to have each discussion moderated by a different person, many of whom were from outside our organization.
The primary focus of this meeting was to figure out what new things we should be doing in the future, rather than how we should do what we're currently doing better. So the topics for discussion were chosen to cover many topics and not be closely linked to current organizational structure. A wide variety of participants and moderators were invited. Staff, researchers, management, and librarians from outside organizations all had an important perspective on the topics at hand.
Discussions
Mr. Rudy Mazariegos, the ARL Chief Information Officer welcomed the guests and provided introductory remarks. Rudy framed the day by stating that the researchers are the "heart and soul of ARL," and that he wants the library to be the first place that they go. He talked about how change leads to anxiety, yet he wanted limitations off the table for the day. He named several smartphone apps as examples of what can be done with information when you free yourself from your pre-conceived notions. Imagine having the support and encouragement of the CIO for this type of exercise.
The first discussion focused on the best, new, and appreciated services to remind everyone of the baseline for current service. Users were encouraged to indicate which services were important or useful to them. While it was nice to hear what library users appreciated, it was equally important to be open to learning that services needed to be improved. Library users wanted more online education, and promotion of library and technical publishing services. The lack of promotion became painfully obvious when a library user requested a service that the library already provides.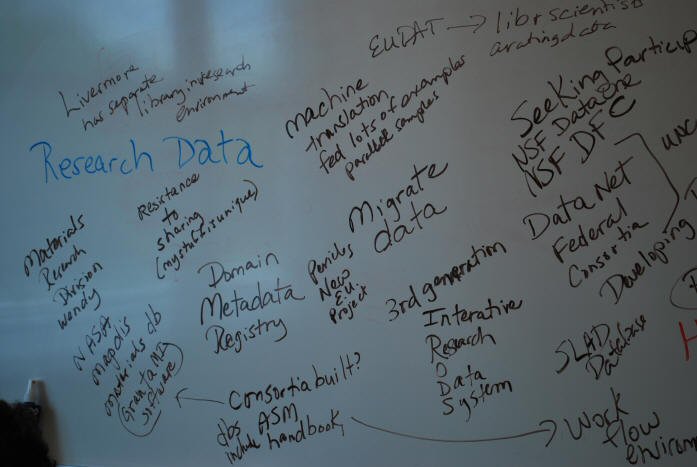 Dr. Bill Regli of Drexel University opened the second discussion which was on curating research data. He provided an overview of the DataNet Federal Consortium and the National Science Foundation Big Data initiative. The obstacles facing data curation in research organizations include technology obsolescence, multiple formats and metadata schema, lack of standardization or harmonization, and the proliferation of "born digital" data.
Ms. Wendy Kosik Chaney, an ARL scientist, shared her experience in managing and enhancing research data as part of the Materials Selection & Analysis Tool platform. Researchers are archiving their own data, but there may also be a role for librarians who know about metatagging, consistency, and accessibility. Dr. Stephen LaRocca, Multi-Lingual Computing Research Branch, suggested the librarians might provide "adult supervision". Mr. James King, National Institutes of Health, reminded us that researchers often don't want to make their data available until they are absolutely sure that their work with that data is completed.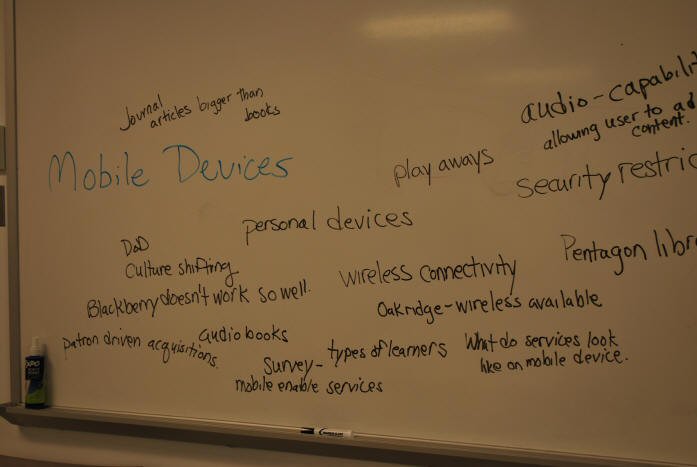 The third discussion, facilitated by Suzanne Foppiano of the ARL Technical Library, was on e-books and e-readers. There is a lot of interest in mobile devices and apps. When deciding to offer mobile services, the library must ask a series of questions. Who will pay for the hardware? Can patrons download e-books to personally owned readers or tablets? Must all the devices be registered and associated with the library e-book account? Are library-friendly licenses available for the type of content a technical library purchases?
There was a discussion about serving a multigenerational workforce. Younger users who grew up with cell phones are unhappy with content that is tethered to a desktop. Library users expect content be available to work across platforms, for services to be designed and displayed on pages that are device sensitive. Is there a demand from users that the library circulate tablets, iPads, or e-readers? Is the new DoD Mobility Strategy pushing the library to circulate these devices? Should ARL publish in device-friendly formats rather than producing in PDF only? The IRC can learn from pilot programs conducted at Johns Hopkins Applied Physics Laboratory Library and the Pentagon Library.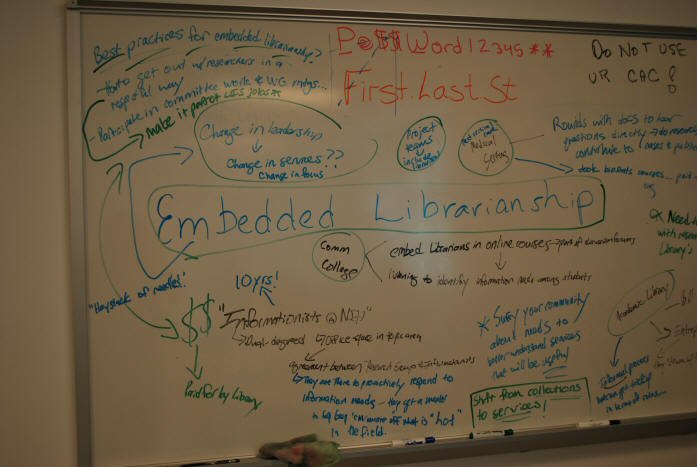 Caralyn Champa led the next session on embedded librarianship. Libraries are moving from a reference desk model to a consulting model. How will the IRC serve its patrons in future? How does a library staff stay abreast of changes in scientific research so it can adequately serve the patrons? Should IRC staff attend meetings, read the literature, and attend conferences to be familiar with the research conducted by ARL scientists? Staff members need a basic understanding of what the scientists are doing so they can properly edit publications and answer reference questions. It was interesting to note that NIH requires science degrees when it hires "informationists," their new term of art for information workers.
After lunch, Louise LeTendre, Team Leader ARL Technical Libraries, led a facilitated discussion on electronic laboratory notebooks. There were more questions than answers as to which agencies have rolled out e-lab notebooks. In many organizations, issuing lab notebooks is not a library function. Several attendees shared their experience in archiving tangible laboratory notebooks.
James King, NIH Information Architect, led the next facilitated discussion on metrics. All organizations seek to measure their impact and evaluate the contributions of the library itself. How do you assist management in assessing the value of the organization as a whole? The Becker Medical Library model for assessment of research impact was mentioned (Sarli and Holmes 2013). Above counting and evaluating citations, the model also seeks to discover if the research resulted in a patent being filed, in a new standard practice being developed, or in a new regulation being adopted. What difference did the research make? Sometimes a narrative example presents a stronger case than statistics in explaining the value of research, and of the organization that does it.
Carol Johnson, Editor in the ARL Technical Publishing Section, led a discussion centered on formats and workflows being used for Technical Publishing in other organizations. Some unique software is being used to generate technical publications, such as LaTeX for equations, but ARL ultimately publishes in PDF format only. The group discussed whether ARL should publish in multiple formats. The goal of technical publishing is to save the time of the researchers who need not worry about formatting, and technical publishing is meeting this goal even when having to deal with the uniquely formatted content.
In the final segment, Blane Dessy facilitated a discussion to outline a path forward. As Executive Director of FEDLINK, Blane has an in-depth understanding of services provided by Federal libraries. It was reiterated that the library staff should continue to plan as if there were "no limits," that the libraries should increase outreach activities to educate users, and that technical libraries and technical publishing could be merged to provide a streamlined content management function for ARL.
Lessons
The advantage of having a series of discussions involving all the participants rather than breakout sessions is that the interconnections between the topics were revealed. For example, electronic laboratory notebooks are a form of data curation. In some laboratories scientists are using tablet computers to log experiments. How will that impact services and research data curation? The widespread use of various mobile devices has an impact on how ARL publishes data. Having all the participants in the same room and quickly transitioning from one talk to the next kept the topics fresh in people's minds and allowed connections between them to be drawn. In a preliminary exercise such as this, it is important to NOT allow one's preconceptions to narrow the focus and thereby preclude input from people who wouldn't previously have thought that they had useful insights.
The importance of time management is difficult to over-emphasize in a large meeting that is going to cover a wide number of topics. In the end, a conference where a bit more could have been said about every topic is better than one where the later agenda items are severely shortchanged for time.
The wide variety of invitees was a critical part of the success of this exercise. Researchers had ideas of what they would like from the library. Librarians from other organizations provided input on the progress of initiatives at their locations. Management learned the importance that others place on the library, and bring with them the possibility of early buy-in for new projects. Staff both learned from the above, and could provide expertise in implementation issues.
Results
It is unreasonable to expect this sort of blue sky exercise to produce a detailed roadmap for action. Rather this gave us a number of topics and ideas for further exploration. The IRC has started several initiatives because of this program. For example, we've detailed one of our librarians as an "embedded librarian." We've ordered some ebook readers. The ideas, expertise, feedback and buy-in from this meeting were a strong first step as we transition from the library of today to the library of the future. The difficulty with a visioning exercise is that the IRC is dealing with "unknown unknowns," as we look to the future. We must strain to see the road ahead, even if that view is imperfect and uncertain.
References
Desmond, D. 2012. RDECOM Director Eyes 'Art of the Possible'. The Insider [Internet]. [Cited 2013 Jul 23]; (3) 2-3. Available from: http://issuu.com/rdecom/docs/rdecom_newsletter_sept2012_email
Sarli, C. and Holmes, K. Assessing the Impact of Research. [Internet] [Cited 2013 Jul 23] Becker Medical Library. Available from: https://becker.wustl.edu/impact-assessment/model