Previous
Contents
Next
Issues in Science and Technology Librarianship

DOI:10.5062/F41R6NGD

Winter 2006
Database Reviews and Reports
AccessScience
Kate Peterson
Associate Librarian, Instruction Coordinator
Learning Resources & Technology Services
St. Cloud State University
St. Cloud, Minnesota
jcpeterson@stcloudstate.edu

Introduction
AccessScience is the electronic counterpart of the 14-volume print edition of the popular McGraw Hill Encyclopedia of Science and Technology, 9th edition and the McGraw-Hill Dictionary of Scientific and Technical Terms, 6th edition (Figure 1). AccessScience contains more than 8,000 encyclopedia articles, 13,000 illustrations, 110,000 dictionary definitions, and over 2,000 biographies of scientists from the Hutchinson Dictionary of Scientific Biography (1999). Each entry has cross references and links to illustrations, definitions and research updates from the McGraw Hill Yearbooks. Each authored entry includes a brief bibliography. In addition to the encyclopedia and dictionary content, AccessScience includes daily science and technology news stories from Science News. There is a Student Center with study guides, suggested essay topics, and topical subject guides. AccessScience also has an RSS feed which delivers headlines, links to new encyclopedia articles, new stories, and announcements. Content is written primarily for college and university students, though younger students may utilize information on basic scientific topics, scientific biographies and the Student Center.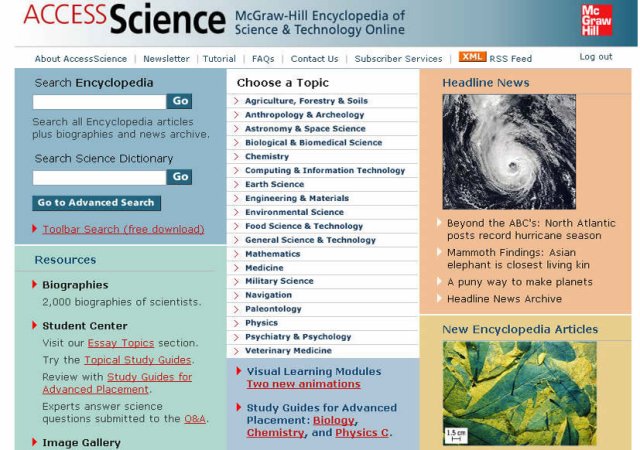 Figure 1: AccessScience Home Page
Content
Encyclopedia
The core of AccessScience is the encyclopedia entries (Figure 2) from McGraw Hill's Encyclopedia of Science and Technology, 9th edition. AccessScience is updated often with new research and content from the McGraw Hill Yearbooks. The author of each entry is identified and articles include illustrations, graphics, formulas, hyperlinks to related content, and a brief bibliography. Each entry can be printed (with graphics and tables) or emailed with a Digital Object Identifier (DOI). Each entry also gives a suggested citation in a general format. A small number of entries also include animations (requiring Flash plug-in) or interactive features such as the "Periodical Table of Elements" or the "Geological Time Scale." Most of the author's names are hyperlinked to give the author's affiliation and links to other entries by the same author. Topics covered include:
Agriculture, Forestry & Soils
Anthropology & Archeology
Astronomy & Space Science
Biological & Biomedical Science
Chemistry
Computing & Information Technology
Earth Science
Engineering & Materials
Environmental Science
Food Science & Technology
General Science & Technology
Mathematics
Medicine
Military Science
Navigation
Paleontology
Physics
Psychiatry & Psychology
Veterinary Medicine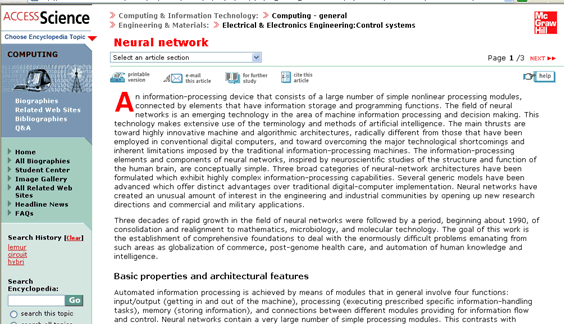 Figure 2: Encyclopedia Entry
Dictionary
The dictionary is the online version of the McGraw-Hill Dictionary of Scientific and Technical Terms, 6th edition. It includes 110,000 definitions with references and suggestions when an incorrect spelling is entered. The definitions are brief and include the pronunciation and the discipline the definition is from.
Biographies
Users can browse the biographies alphabetically by name or by topic. It gives all of the Nobel Prize winners (chemistry, economics, literature, peace, physics, and physiology or medicine) and the Fields medal winners in mathematics. Brief biographies are included if they are part of the Hutchinson Dictionary of Scientific Biography (1999).
Student Center
The Student Center (Figure 3) includes suggested research topics from beginner to advanced with links to related content and topical study guides or outlines of particular topics. There are study guides for Advanced Placement (AP) students in physics, biology and chemistry which include links to "articles, definitions, animations, and illustrations keyed to topics covered in the examination" and multiple choice quizzes at the end of each section.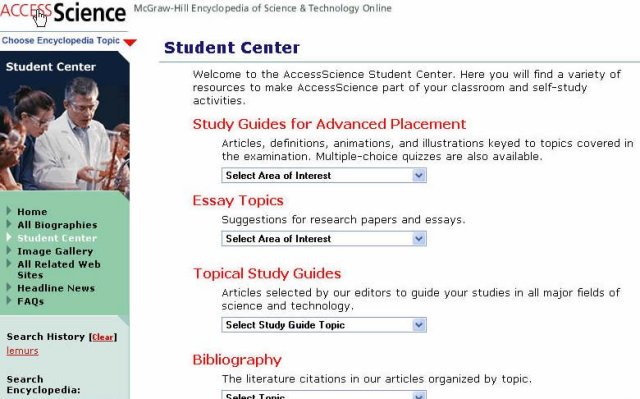 Figure 3: AccessScience Student Center
Search Interface
Browse
AccessScience is very easy to browse and includes a topic list on the home page which creates a directory of each subject. The results screens also include a browse function so users can alphabetically browse the encyclopedia, research updates, or the dictionary.
Search
The home page of AccessScience includes two search boxes, one for the encyclopedia and one for the dictionary. There is a well-designed advanced search which allows users to search using Boolean operators (AND, OR, NOT), wildcard searching using the asterisk, and phrase searching using quotation marks. All searches are case-insensitive and will give alternate spellings if no results are found. The advanced search (Figure 4) has many limits such as by words in titles, titles and text, bibliographies, contributors, figure captions, or animations. Users can also limit their search by format or by broad topic.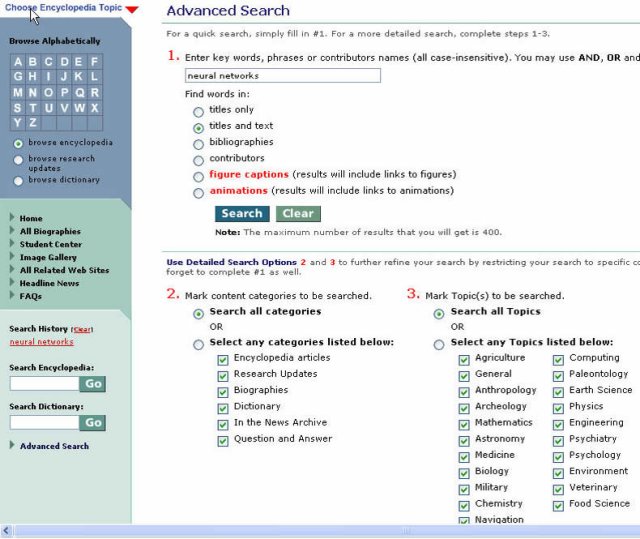 Figure 4: Advanced Search
The advanced search searches all AccessScience content and the results (Figure 5) are ranked in their order of relevance. The results indicate the number of search word entries (up to 200) for a maximum of 400 items displayed. The search terms are highlighted and the results are organized by format. The default results commingle the formats but include tabs for each type of format. This is similar to an increasing number of databases which help to give users a picture of the types of content available. There is a search history feature and a freely downloadable AccessScience bookmarklet application.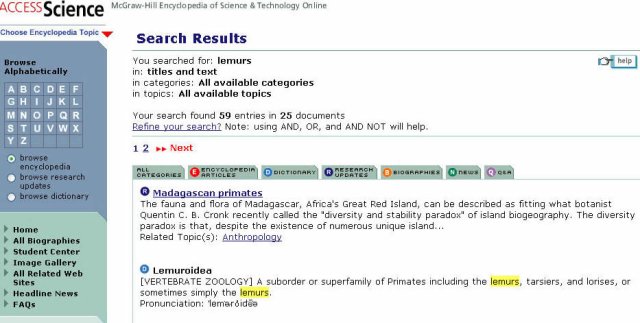 Figure 5: Search Results
Help
For the most part AccessScience is easy to navigate but does include a help icon which links to context-specific help guides. There is also a section with FAQs and an animated tour of AccessScience.
Additional Features
Headline News -- A weekly update of science, engineering and technology related news stories taken from Science News.
Data, Tables & Tools -- A section about scientific notation and a series of tables with units, conversion factors, constants, and scientific symbols.
Image Gallery -- About a dozen online exhibits of images and scientific content such as the Indian Ocean tsunami, human brain anatomy, Mars exploration, supernova remnants, cellular mitosis, and the pioneers of flight.
Related web sites -- A section of free web sites evaluated but not endorsed by AccessScience. They are organized by discipline and include a small number of academic, non-profit, and organizational web sites from across the globe.
Visual Learning Modules -- Visual Learning Modules are "self-directed lessons consisting of animations and corresponding texts." Including DNA microarrays, the polymerase chain, DNA replication, transcription: DNA to RNA, translation: RNA to protein, the chromosome: DNA packaging and chromatin remodeling, and the eye: structure and function.
Pricing & Comparisons
Pricing is generally reasonable and is based on institution size "on a weighted Full-Time Equivalent (FTE) basis" for all types of libraries including schools, public, corporate and universities. Access is available through IP authentication. There are few stand alone products that match AccessScience though an increasingly number of science and technology publishers are digitizing their print holdings and adding interactive content. Yet, these are usually bundled with traditional periodical databases and as a result are often difficult for users to find, or are too specific or too costly for most libraries.
Improvements
More interactive features and content will continue to make this encyclopedia relevant in the future. As content from different sources continues to blend together, one improvement would be to make the bibliographies, for example, link to an institution's serials holdings or to linking software such as SFX.
Final Thoughts
AccessScience is an exceptional example of an online encyclopedia. It is includes extensive, high quality content with many search and browse options. It has a well-designed interface and is clearly written for both the scientists and non-scientists alike. AccessScience is a great product and should be considered as part of the core of any online reference collection. The challenge of products like this is to let users know of their existence and to encourage them to use them. AccessScience's clear layout and interactive features will instantly connect with students if they manage to find it on a library's web site.
More Information:
More information: http://www.accessscience.com/
Request a free 30 day trial: http://www.accessscience.com/FreeTrial/
AccessScience Demonstration: http://books.mcgraw-hill.com/accessscience/demo/
McGraw Hill Companies
P.O. Box 182604
Columbus, OH 43272
Phone: 1-888-307-5984